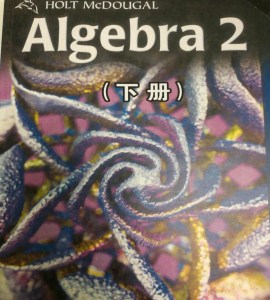 Course Outline
Course Name: Holt McDougal Algebra 2
Date: September 5,2016 -- now
Level: US G9-10
Hours (week): 2- 4
Number of Weeks: 1 year
Prerequisite: Intermediate English
Instructor: Leona
Course Description
The course is a supplement to the Mathematics textbook. The course includes videos, quizzes, exams, which will help students learn Mathematics and earn a better grade. The course effectively teaches all the concepts students need to know to improve grades for Mathematics.
Learning Outcomes
Upon completion of this course students are expected to be able to:
1. Students should be able to use the concepts to which they are introduced to facilitate knowledge and comprehension through memorizing and practicing and understand Investigations by applying.
2. Students should be able to understand and apply the concepts of the textbook covered as this will serve as the basis for a more advanced course of study in AP courses.
Teacher Objectives
1. Improve student's understanding of Mathematics as an basic study.
2. Prepare students for the Common Core and Advanced Placement exam
Teaching Methods
Teaching strategies will comprise fun puzzles, games, short videos, group discussions, and individual exercises, which will focus the following skills: list, recite, define, name, quote, recall, identify, label, recognize, describe, explain, paraphrase, restate, give examples of, discuss, providing examples of concepts or information, graphing, plotting, calculate, and investigate etc.
Topics Covered
Chapter 1: Foundations for Functions
Chapter 2: Linear Functions
Chapter 3: Linear Systems
Chapter 4: Matrices
Chapter 5: Quadratic Functions
Chapter 7: Exponential and Logarithmic Functions
Chapter 11: Probability and Statistics
Chapter 12: Sequences and Series
Assessment Strategies
Final grades for students will be determined on the following:
1. Classwork/Homework (25%) Students are given exercises to complete for each section and must be prepared to discuss the results in class.
2. Participation/Effort (30%) Based on students' actual classroom performance and involvement in class discussions and projects.
3. Quiz (5%)
4. Final Exam (40%)

s and undergraduate majors.